HopeXchange Medical Center has signed a Memorandum of Understanding with the Maltese government to provide e-learning and e-health at the facility.

This memorandum has been signed by Dr. Ian Borg, minister for Foreign and European Affairs and Trade and Mr. Mario Cappello, Founder and CEO of HopeXchange Medical Center.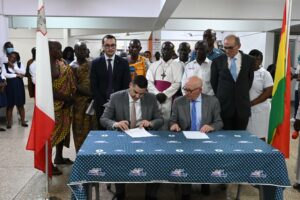 As Dr. Ian Borg said "with the signing of this MoU, we are laying a solid foundation for the extension for the medical center in order to ensure its continuous successful operation and the development of its capacities in the field of digital health."

For his part Mr. Mario Cappello was grateful to the Maltese government for the support to the facility and in helping it to establish a digital platform to serve the people of Ghana.